Ethical and Sustainable Fashion Labels in Denmark
Feel good with striking, well-made, original and edgy Danish fashion brands.
Sustainable fashion. Ethical fashion. Slow fashion. Eco fashion. Fair Trade fashion. Local fashion. Copenhagen and Aahaus designers. Cool and classic all the way.
ECOLOOKBOOK gives you the most exciting Danish fashion labels with a social and environmental heartbeat.
Shop local. Choose well. Feel good. Wear your values.
BY MALENE BIRGER
Denmark
photo: bymalenebirger.com
Copenhagen | sustainable minimalistic and elegant fashion label following UN guiding principles on business and human rights
✓ Supply chain transparency
✓ Ethical production
✓ Animal welfare
✓ Sustainable fibres
✓ Environmental footprint
✓ Giving back
Price: €€-€€€
BAUM UND PFEDGARTEN
Denmark
photo: baumundpferdgarten.com
Copenhagen | with company cornerstones of trust, transparency and trend, Baum Und Pferdgarten are committed to making clothes that last, considering both the plantet and its people without compromising their aesthetics
✓ Ethical production
✓ Sustainable fibres
✓ Eco dyes and printing
✓ Environmental footprint
✓ Giving back
Price: €-€€€
CARCEL
Denmark
photo: carcel.co
Copenhagen | timeless and urban chic collections made where the best and most sustainable materials in the world meet the highest rate of poverty related crime
✓ Ethical production
✓ Supports artisans
✓ Sustainable fibres
✓ Environmental footprint
✓ Giving back
Price: €€-€€€
ELSK
Denmark
photo: @elskcom
Thy | quality, sustainability and pride are the three principles that ELSK strives to follow when creating its organic and upcycled collections
✓ Supply chain transparency
✓ Ethical production
✓ Animal welfare
✓ Sustainable fibres
✓ Eco dyes and printing
✓ Environmental footprint
✓ Giving back
Price: €-€€
STINE GOYA
Denmark
photo: @stinegoyastudio
Copenhagen | eponymous and art inspired fashion label offering sustainable collections and following UN Sustainable Development Goal 12
✓ Ethical production
✓ Sustainable fibres
✓ Environmental footprint
Price: €€-€€€€€
M OF COPENHAGEN
Denmark
photo: @mofcopenhagen
Copenhagen | local sustainable artisan jewellery label of heirloom quality that wrapps up its precious pieces in 100% biodegradable packaging
✓ Ethical production
✓ Supports artisans
✓ Animal welfare
✓ Sustainable materials
✓ Environmental footprint
✓ Circular
✓ Giving back
Price: €-€€€
ORGANIC BASICS
Denmark
COPENHAGEN CARTEL
Denmark
photo: copenhagencartel.com
Copenhagen | sustainable swimwear label that creates a range of high quality, long lasting products that tell the powerful story of the journey from waste to wear, closing the loop and turning a problem into a solution
✓ Supply chain transparency
✓ Ethical production
✓ Sustainable fibres
✓ Environmental footprint
Price: €-€€
ORGANIC BASICS
Denmark
WORON
Denmark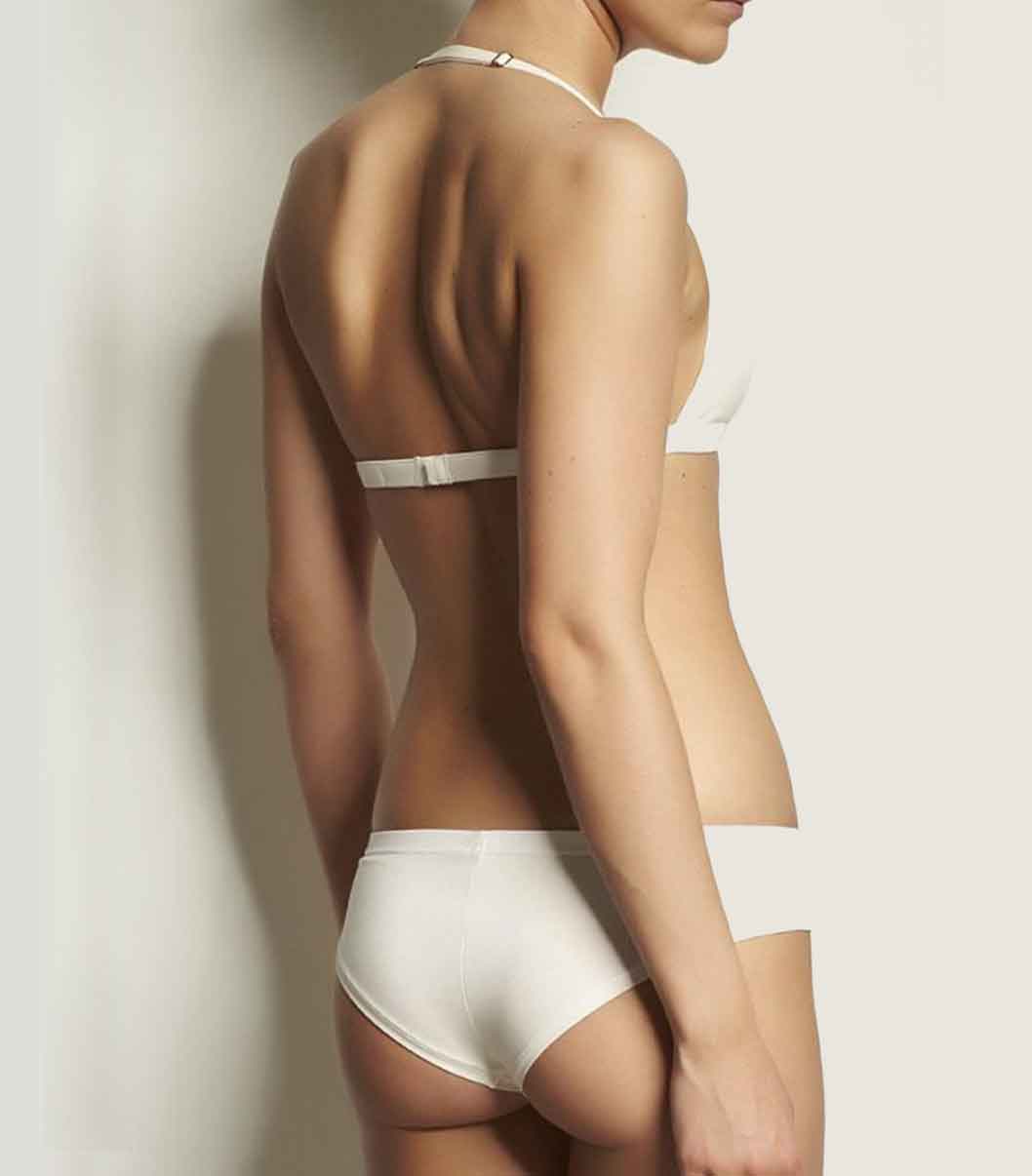 photo: woronstore.com
Copenhagen | sustainable, slow fashion and award winning toxic-free underwear label made to empower women to feel sexy in their natural shape
✓ Supply chain transparency
✓ Ethical production
✓ Sustainable fibres
✓ Eco dyes and printing
✓ Environmental footprint
Price: €-€€
Find out more
Where to Shop Sustainable Fashion in Denmark