Shop Sustainable Fashion in Germany
Shop your values. Shop eco fashion. Fair Trade fashion. Slow, sustainable, ethical, cruelty free, vegan fashion (and accessories!).
Shop fashion that empowers women. Shop fashion that pays a living wage.
Shop fashion that respects the farmers, the cotton pickers, the fabric weavers, the aristans, the makers.
Shop fashion that loves our planet, our home.
Shop ECOLOOKBOOK's pick of the best sustainable and ethical fashion boutiques in Germany in-store and online.
Shop Sustainable Multibrand Fashion Online
AVOCADOSTORE
online
photo: avocadostore.de
Multibrand
GREENALITY
online
photo: greenality.de
Multibrand
MIT ECKEN UND KANTEN
online
photo: miteckenundkanten.com
Multibrand
STAIY
online
photo: stay_official
Multibrand
ThokkThokk
online
photo: thokkthokk.com
Organic, vegan and fair multibrand shop
THE WEARNESS
online | Berlin
photo: wertvollberlin.de
Multibrand | fair fashion, beauty and ethical luxury
WERTVOLL
online | Berlin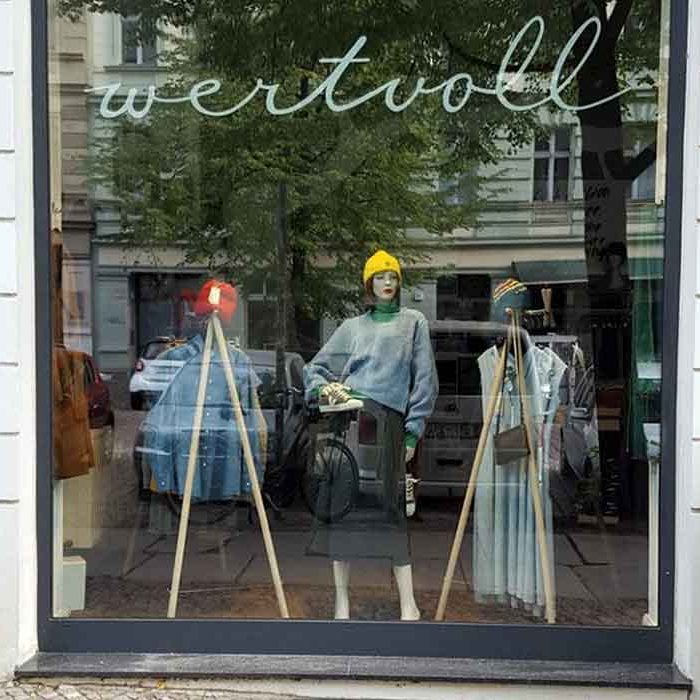 photo: wertvollberlin.de
Multibrand
LOVECO
Berlin | online
photo: @loveco.shop
Multibrand
Where: Friedrichshain | Schoeneberg | Kreuzberg
BIKINI
Berlin
photo: shutterstock
Department store stocks sustainable fashion
Where: Budapester Str. 38-50
WERTVOLL
Berlin | online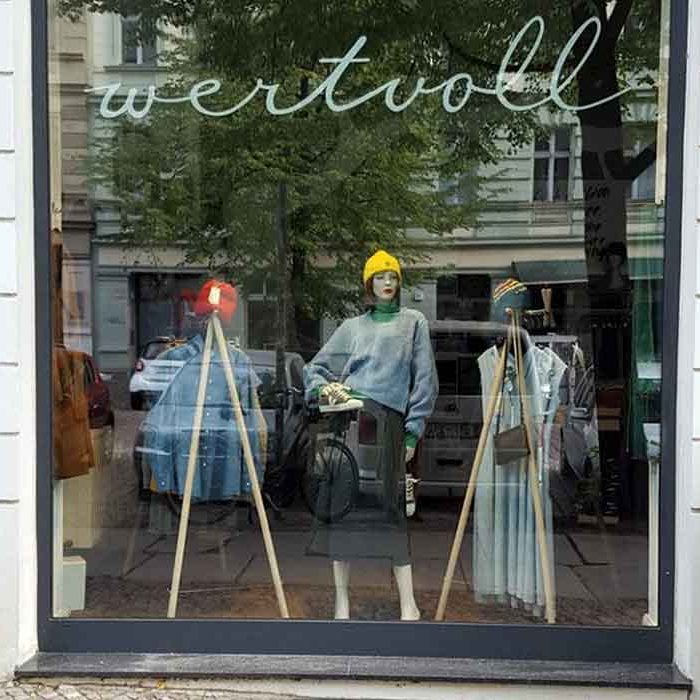 photo: @wertvoll-berlin
Multibrand
Where: Marienburger Str. 39
OF / BERLIN
Berlin
photo: @ofbln
Gifts and accessories from local designers
Where: Hackesche Höfe, Hof 7
FOLKDAYS
Berlin I online
photo: Joanna Catherine Schröder
Handpicked and unique fashion
Where: Manteuffelstraße 19
ECOALF
Berlin | online
photo: @ecoalf
Fashion and accessories
Where: Alte Schönhauser Str. 5-5a
KONK
Berlin | online
photo: @konkberlin
Fashion and accessories
location: Kleine Hamburger Straße 15
SUPERMARCHE
Berlin | online
photo: @supermarche
Fashion and accessories
Were: Wiener Str. 16
FAIRFITTERS
Cologne
photo: fairfitters.de
multi brand | concept store
Find it: Brüsseler Str. 77, 50672 Köln
MUNDO VERDE
Cologne
photo: mundo-verde-fashion.de
multibrands
Find it: Krebsgasse 5-11, Basement of Naturata City, 50667 Köln
KISS THE INUIT
Cologne | Bonn
photo: kisstheinuit
multibrand | concept store
Find it: Schillingstrasse 11, Cologne
GLORE
Online | Hamburg
photo: @glore.de
multibrands
Find it: Karoviertel | Altona
MARLOWE NATURE
Online | Hamburg
photo: marlowe-nature.de
multibrand | fashion and accessories made of natural textiles and cosmetics
Find it: Beim Schlump 5 | Bahrenfelder Str. 176
VUNDERLAND
Online | Hamburg
photo: vunderland.de
multibrand
Find it: Marktstrasse 137
A BETTER STORY
Munich
photo: @abetterstory.muenchen
multibrand | concept store
Where: Auenstraße 2A
ABOUT GIVEN
Munich
photo: @about_given
multibrands
Find it: Baaderstrasse 55 | Gärtnerplatzviertel
DEAR GOODS
Munich
photo: deargoods.com
multibrands
Where: Schwabing | Glockenbachviertel
PHASENREICH
Munich
photo: @phasenreich
multibrands | fashion and lifestyle products
Where: Reichenbachstraße 23
Find out more
Where to Shop Preloved Fashion in Germany