Ethy founder: "We spent lockdown building a sustainable shopping app!"
Read the full interview...
Motivated by our own efforts to live more sustainably (and to ensure our own sanity), my friends and I used lockdown as an oppurtunity to create an app that helps us all shop sustainably.
51% of UK shoppers now believe the environmental impact of a product is just as important as the price ¹. This is great, but it's often difficult to understand exactly what that environmental impact is … Greenwashing is also misleading us into believing a product or service is eco-friendly; a very real pain point for an increasing number of consumers that want to shop responsibly.
With this is mind, we set out to build an app that provides much needed clarity and makes sustainable shopping easier for us all.
After 9 months of development we launched ethy in March 2021. Here's how it works.
We accredit brands that are making a genuine contribution towards the UN Sustainable Development Goals
ethy does all the hard work by vetting and verifying a brand's sustainability claims. To achieve this, we developed a robust accreditation framework derived from the UN Sustainable Development Goals.
Our accreditation framework comprises of what we call ethyBadges (see below). Each ethyBadge represents a particular type of sustainable or ethical practice that links back to at least one of the UN Goals. From Reduces Waste to Carbon Conscious to Female-Led, we now have 16 badges that help shoppers align their spending with their values.
ethyBadges are then attributed to businesses on the app so users can understand exactly what makes the business a sustainable choice.
 What can you do with the app?
We've already accredited thousands of sustainable brands that can be discovered on the app. Using ethy you can search for pretty much any product and the app will connect you with an accredited brand that provides a sustainable alternative for it!
We also have over 3000 accredited shops on our map feature, making it easy for you to find eco-friendly shops nearby. Your can discover vegan food places, fairtrade coffee shops, social enterprises, organic grocery stores and much more! Unlike similar city-centric platforms, we've made a conscious effort to cater for as many people as possible with eco-shops spanning the length and breadth of the UK.
The app also provides some more personal insights that allow you to understand the environmental and social impact of your own shopping. You have the option to connect your bank account via Open Banking technology to find out how sustainable your own shopping is.
While sustainability should take on a serious tone, we've also tried to make the app fun to use and interactive. Using ethy, you can recommend a sustainable shop to feature, favourite your preferred eco-brands and also share them with friends.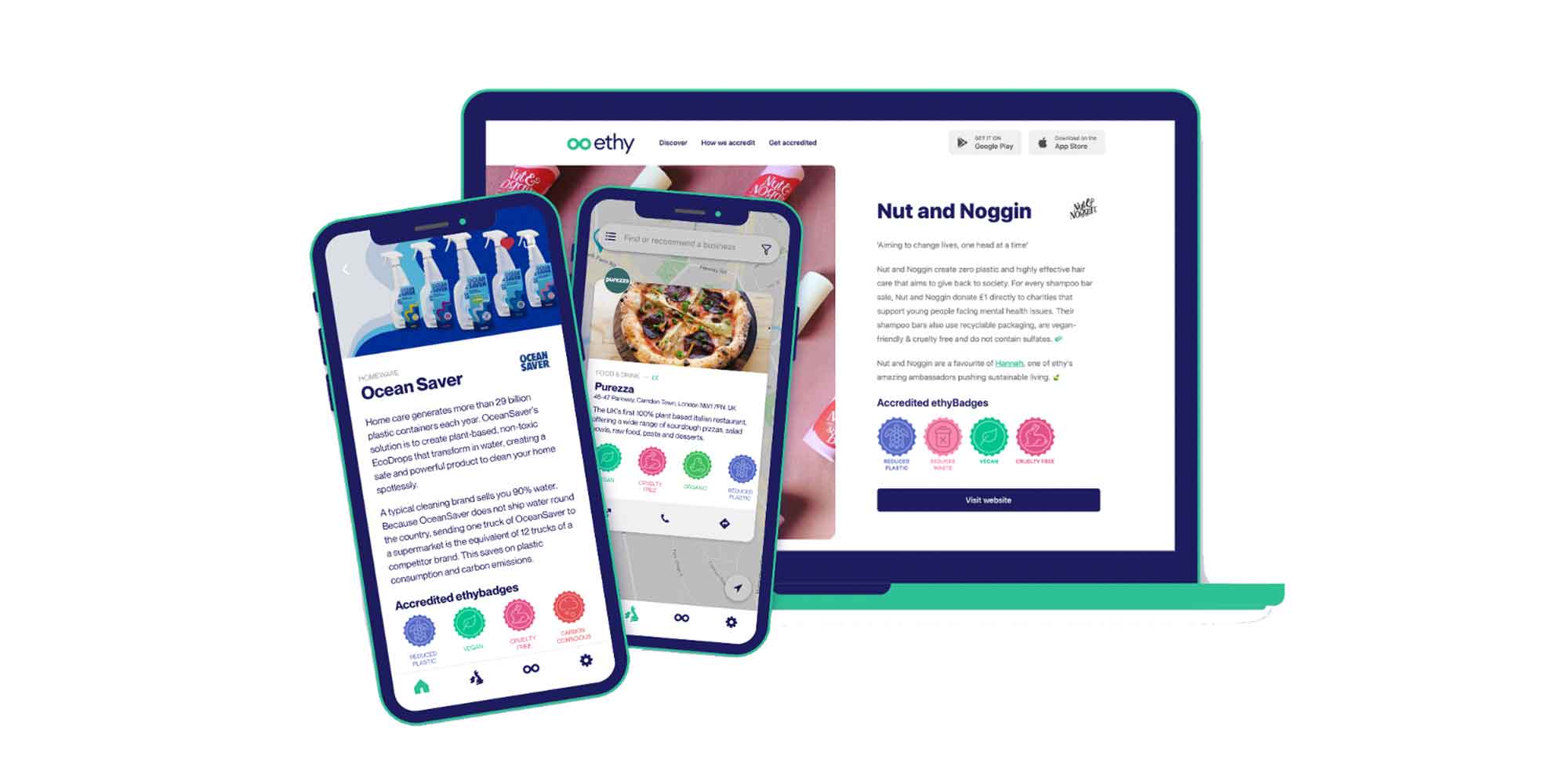 How will ethy make a positive impact?
By making ethical consumerism a simple, fun and engaging prospect, we hope to encourage more people to adopt a considerate approach towards their shopping behaviour. Sustainable shopping is no longer a niche concept. It is transitioning towards a mainstream market and we want to help accelerate this transition.
It's also been truly inspiring to discover so many purpose driven organisations that put people and planet before profit.  We hope to use ethy as a platform to celebrate this type of business and help maximise their positive impact.
ethy is a free app for everyone
If you like the sound of ethy, please do give it a try! The app is available to download on iOS and Android for free. Small changes to your shopping choices really do make a BIG difference. ethy is here to make these changes just that little bit easier for you.
To find out m ore please visit:

Website: www.ethy.co.uk
Instagram: ethy.uk
Sources
¹ E.ON renewable energy report / https://www.eonenergy.com/business/benefiting-from-green-recovery.html
Bio
ethy is a purpose-driven mobile app startup in  the UK on a mission to make ethical buying and selling easy to achieve a better and more sustainable future for all by 2030.