All items are 100% Merino wool sourced from regenerative New Zealand farms. Knitted using solar-powered, zero-waste machines in a seamless design. Includes a removable NFC tag to trace the garment's origins to the farm it came from. Plus, it updates you on your very own sheep!  
Sheep are very much partners in bringing our clothes to life, so giving them a comfortable and happy life is the least we can do. Where fast fashion fails, our process thrives; it's zero waste, completely mulesing-free, and always puts the animals' welfare first. We work with independent farms in New Zealand (they have the best sheep in the world) selecting each one based on the quality of the sheep's wool and their level of care. They're shorn once a year (the sheep, not the farmers) to prevent their coats from continuous growth and overheating, matting, and infections. Like any good trim, the shearing takes place under carefully supervised conditions so everyone's happy with the result.
We want you to feel connected to nature and understand where our things come from, so each of our items comes with its very own trackable sheep. You'll get updates when they're on the move, getting a haircut, or having little lambs of their own. They'll also never bother you with voice notes or views on current political structures, because they're sheep. Sheep inc.  introduced an NFC tag— or near-field communication (the same tech that enables contactless payment) attached to its sweater hems — that allows customers to track the supply chain of its Merino wool sweaters via an app. At the Group of 20 meeting in October 2021, Prince Charles's Sustainable Markets Initiative Fashion presented its "Digital ID," which can trace a fashion item from production through sale and even resale.
Our wool is seriously soft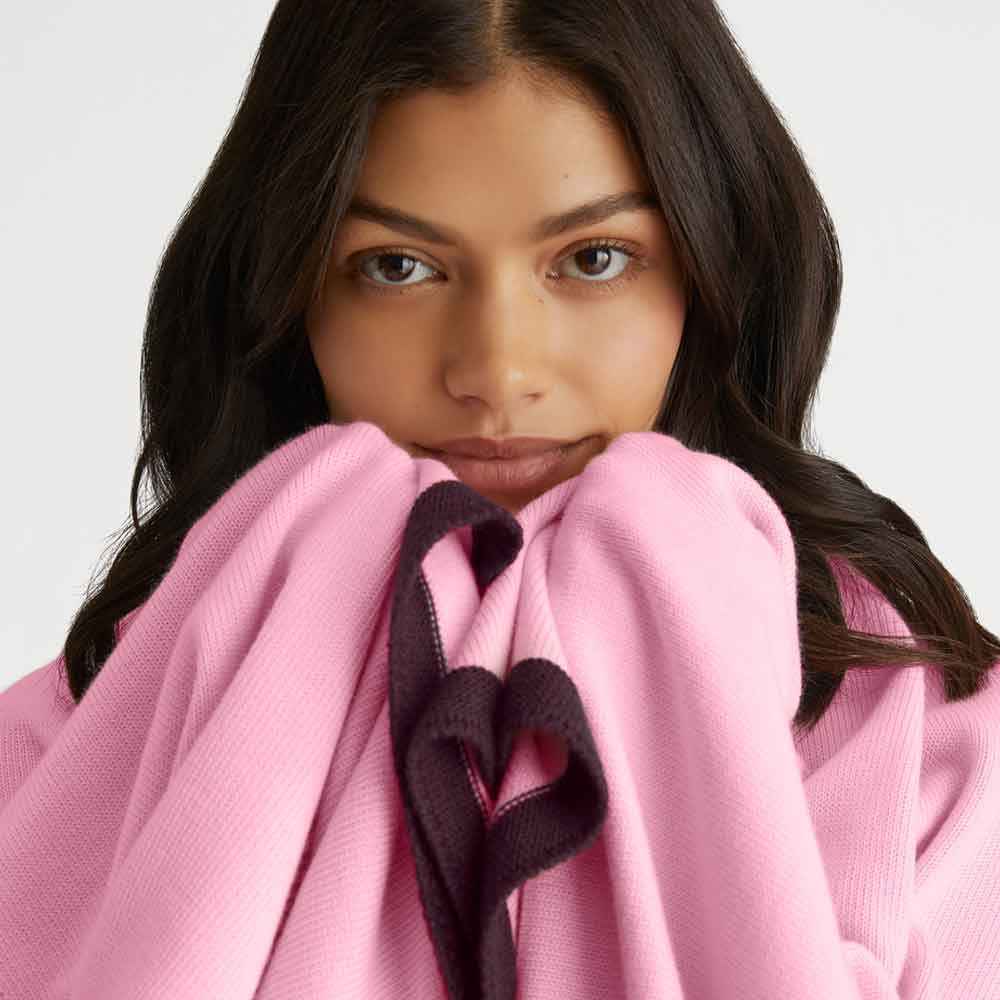 Silky smooth. Downright durable. And 100% Merino. All of our garments are knitted as one waste-free piece; the extra thin fibres in our Merino wool elevated by our innovative, chlorine-free treatment means our knits are also worlds away from the frankly dangerously itchy knits of yesterday. Fun fact - sheep wool is also moisture resistant and naturally temperature regulating, so it can warm you up when you're cold and keep you cool when you're warm. Your hair can't do this.
Protecting Mother Earth. Because she's worth it.
All of our products are naturally carbon negative. But we also invest 5% of our revenue into regenerative projects working to improve our future on this planet. We call it our Impact Program, and people seem to be on board with it - like our partner Professor Mark Maslin, Head of Climatology at University College London. The projects we involve ourselves in all focus on the social and environmental elements of our climate. Everything from biodiversity support, scientific research and development, and community development activations. You're welcome to become an Impact Program member and do your bit. Just drop us a line and we'll tell you how you can make a difference with us.
We work with nature. Not against it.
Our raw materials are carbon-negative, and our manufacturing is completely powered by solar energy. This makes us the first people in the world whose process naturally saves and stores more carbon than it creates. (That's the bit you should remember when you tell your friends about us.) Our sheep live in New Zealand's High Country with loads of space to walk, run around, or debate the origins of pavlova. All our farms are part of the ZQ programme, which means they enjoy the highest animal welfare standards worldwide. While our sheep are living their best lives, they also play a key role in the Regenerative Farming movement. Sheep keep the farm's soil healthy by closing the nutrient loop and reducing the need for fertilisers. Our farmers also implement rotational grazing techniques which ensure the grass is never overgrazed and provides living organisms a constant source of nutrition, prevents soil erosion, increases water infiltration rates and store more carbon in the soil. All of the above means our Sheep are able to provide wool which has a carbon negative footprint. Making us the first naturally carbon negative fashion brand on earth. No other clothing brand can say this; if they did, they'd be lying. None of this is magic, simply science
@sheepinc